Click here to learn more or read an excerpt below.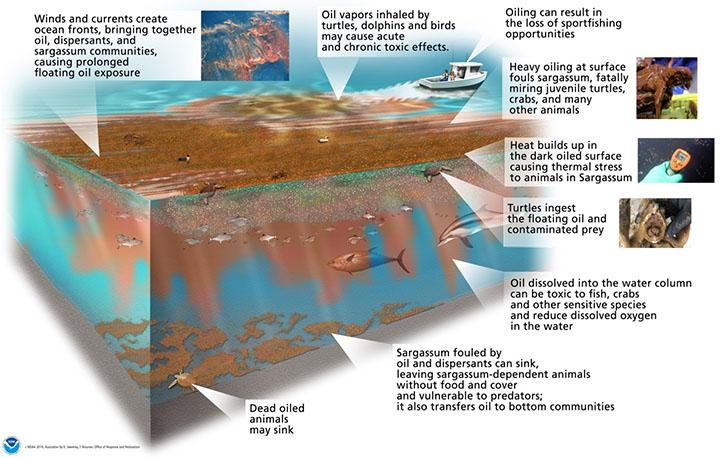 …
While sea turtles, for example, as cold-blooded reptiles, may enjoy the relatively warmer waters of sargassum islands, a hot sun beating down on an oiled ocean surface can raise water temperatures to extreme levels. What starts as soothing can soon become stressful.
Depending on how much oil arrived, the sargassum would grow less, or not at all, or even die. These floating seaweed oases begin shrinking. Where will young sea turtles take cover as they cross the unforgiving open ocean?
As life in the sargassum starts to perish, it may drop to the ocean bottom, potentially bringing oil and the toxic effects with it. Microbes in the water may munch on the oil and decompose the dead marine life, but this can lead to ocean oxygen dropping to critical levels and causing further harm in the area.
From Pollution to Protection
NOAA and the U.S. Fish and Wildlife Service have designated sargassum as a critical habitat for threatened loggerhead sea turtles. Sargassum has also been designated as Essential Fish Habitat by Gulf of Mexico Fishery Management Council and National Marine Fisheries Service since it also provides nursery habitat for many important fishery species (e.g., dolphinfish, triggerfishes, tripletail, billfishes, tunas, and amberjacks) and for ecologically important forage fish species (e.g., butterfishes and flyingfishes).
…
Sargassum and its inhabitants are particularly vulnerable to threats such as oil spills and marine debris due to the fact that ocean currents naturally tend to concentrate all of these things together in the same places. In turn, this concentrating effect can lead to marine life being exposed to oil and other pollutants for more extended periods of time and perhaps greater impacts.
…