This article has completely stopped me in my tracks from buying all food from California and I don't care if the water has been treated. When have humans ever outdone nature? Is this a sign of things to come throughout the world as we grapple with a shortage of water and impacts of climate change? Click here to read the full article or an excerpt below.
California's epic drought is pushing Big Oil to solve a problem it's struggled with for decades: what to do with the billions of gallons of wastewater that gush out of wells every year.
Golden State drillers have pumped much of that liquid back underground into disposal wells. Now, amid a four-year dry spell, more companies are looking to recycle their water or sell it to parched farms as the industry tries to get ahead of environmental lawsuits and new regulations.
The trend could have implications for oil patches across the country. With fracking boosting the industry's thirst for water, companies have run into conflicts from Texas toColorado to Pennsylvania. California could be an incubator for conservation efforts that have so far failed to gain traction elsewhere in the U.S.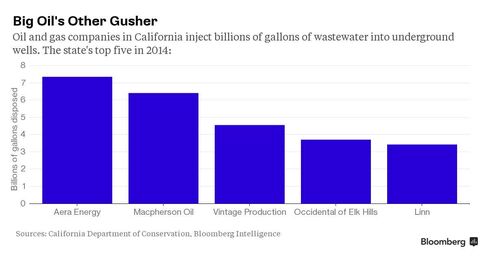 Drillers may have little choice. The state's 50,000 disposal wells have come under increased scrutiny this year, after regulators said they'd mistakenly allowed companies to inject wastewater near underground drinking supplies. Environmental groups sued the state to stop the practice at 2,500 sites considered most sensitive.
A win for environmentalists could drive up disposal prices and delay drilling by months for Chevron Corp., Linn Energy LLC and other companies, according to a June 12 report by Bloomberg Intelligence analysts Brandon Barnes and Matthew Kerner.
Conservation Rising
Conservation is "suddenly leaping to the forefront," said Laura Capper, founder of Houston-based CAP Resources, which advises the industry on water use. "You're going to see a lot of retrofit programs. If they're not already recycling, they'll be adapting."
Sarah Nordin, a spokeswoman at Linn, didn't immediately return messages seeking comment on the lawsuit. Cam Van Ast, a Chevron spokesman, declined to discuss it.
In central California's San Joaquin Valley, Chevron piped almost 8 billion gallons of treated wastewater to almond and pistachio farmers last year. California Resources Corp., the state's biggest oil producer, plans to quadruple the water it sells to growers, Chief Executive Officer Todd Stevens told investors at an April conference.
An environmental group, Water Defense, questioned whether Chevron's sales to farmers created the risk of industrial chemicals contaminating the food chain. The local water-quality control board ordered the company to conduct tests and Chevron says it has met all the pollution standards in its permit.
…